About Us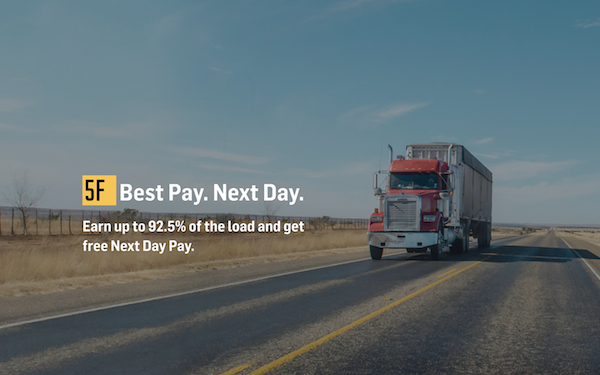 5F is seeking CDL-A Owner Operators to run dry van, reefer, or flatbed trailers to join our 2,500+ truck platform under our authority.
REEFER AND DRY VAN OWNER OPERATORS

- Limited Trailers Available - Ask us about current availability!

FLATBED OWNER OPERATORS- Must Have Your Own Trailers
Our 5F App is built specifically for owner operators. Our owner operators are making well over $10,000 per week with this App.
We provide 24/7 customer support and will handle all the paperwork, dispatching, and your billing needs!
Current Jobs
(766 jobs and locations)
5F OTR
hiring in Pittsburg KS, Hayden ID, Laredo TX and 763 other areas
With extraordinary rates, free next-day pay, and the latest technology to keep you moving, 5F does truckin' right. We help 2,500+ CDL-A owner operators run successful and profitable businesses every day! When you join our platform, 5F connects you to dry van, reefer, or flatbed freight across America. The 5F app is designed specifically for owner operators and enables ...