About Us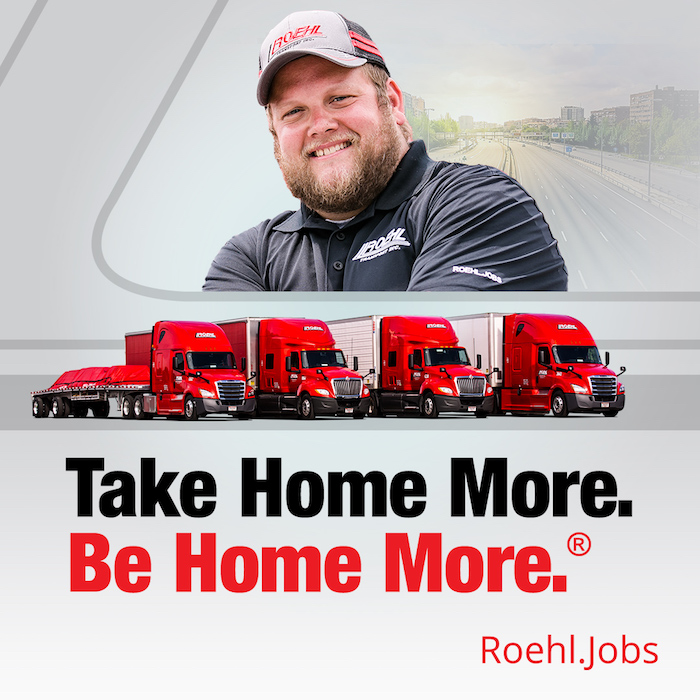 Take Home More & Be Home More With Roehl!
Roehl has hundreds of home daily and home weekly trucking jobs – from local trucking jobs to regional driving jobs to dedicated truck driving positions, Roehl has options for you! Roehl also offers true OTR runs for those that want to stay out longer!
RECENT PAY INCREASE!
We recently introduced sliding mileage scale pay plans for many fleets. Our sliding pay scale rewards you for your time, not just the miles you drive!
When you drive with Roehl, you can expect:
Earn $72,000 or more per year!
Address-to-Address mileage pay – you are paid for more of the miles you actually drive!
New, modern equipment
Comprehensive benefits package
Paid vacation
Retire in style with a 401k plan & profit sharing
Health, dental, vision, & life insurance
Referral bonuses
Bring a friend! - passenger (rider) policy
Bring a pet! – pet policy
Our smartphone app helps keep you connected, even when you're away from the truck
24/7 maintenance support
We measure downtime in minutes, not days!
Our services include:
Dry Van
Flatbed & Specialized
Curtainside
Refrigerated Van
Dedicated
Throughout our years of service, we have earned hundreds of awards. Our most notable accomplishment is earning our fourth, American Trucking Association's Presidents Award. The ATA is the industry's largest trade organization and it's President's Award is the highest honor and safety award in the trucking industry.
Join the carrier with the stability you crave and the rewards you deserve!
Current Jobs
(1457 jobs and locations)
Roehl Transport
hiring in Elmhurst IL, Chicago IL, Gary IN and 7 other areas
Announcing Tours at Roehl Transport! These high productivity plans maximize your earnings as a CDL truck driver and provide weekly home time! You'll have all the details of your work week before the wheels start rolling.Tour 1 - Southern WI / Northern IL to UT In this tour, you'll run from Southern Wisconsin or Northern Illinois to Utah and then back. You'll launch on a...
Roehl Transport
hiring in Colby WI
We continue to expand our home daily truck driver jobs. We even offer part time driving jobs! Home daily Work close to home (based in Marshfield) Hourly pay (start at $22.50 / hour) Haul a variety of loads Operate different equipment No trucking experience? Training is available through our on-the-job CDL training program This position is ideal for an experienced ...
Roehl Transport
hiring in Mcalester OK, Oklahoma City OK, Muskogee OK and 23 other areas
Get Home Weekly! Get weekly home time and earn excellent pay in this Dedicated Southern CTP Fleet! You'll haul paper products for a dedicated customer in specific Arkansas, Oklahoma and Texas areas, and you'll be getting steady miles along with a steady paycheck and plenty of home time, too. About 75% of your loads will be drop and hook - so you'll be moving and earning!...
Roehl Transport
hiring in Cedar Lake IN, Oak Park IL, Elmhurst IL and 5 other areas
Updated Pay Plan! Ask about our new sliding mileage scale! In this home daily truck driving job in our Dairyland Fleet based in Chicago, you'll haul temperature-controlled freight regionally AND, like a local Chicago truck driving job, you will be home every day! You will haul mostly refrigerated loads like cheese and other frozen and temperature-controlled products (no ...
Roehl Transport
hiring in Peoria IL, Big Rapids MI, Arlington Heights IL and 146 other areas
Updated Pay Plan! Ask about our new sliding mileage scale! As a Van Midwest Regional Fleet driver, you'll haul largely no-touch freight to many of the same locations in the central part of the country. You will get home weekly - typically for 48 hours. We strive to get you home with a load so you'll know well in advance where you're going when you head back out. You ...